Dr. Rick's Shelters
Author: Dr Rick
Keywords: Animal shelters
Originally created in 2013. Minor updates done before release.
Compatibility: All Game Versions
Small Ardennes Burrows
Description: Recolour of ingame burrows
Requires ZTCDD.dll
Download Small Ardennes Burrows
Baobab Tree Shelters
Description: Rick enlarged the ingame baobab and made it into two shelters.
These are coded for Savannah habitat and Africa.
Requires LANG--JBL.dll or ZTCDD.dll
Download Baobab Tree Shelters
Cave Shelter
Description: Recolour of the ingame rock cave.
DrRRockCaveShelter.ztd dated 20 April 2018
Requires ZTCDD.dll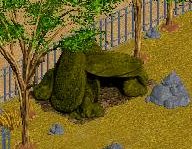 Download Rock Shelter
Underground Caves
Rick's Notes: I think that this is one of the nicest items I have ever made using purely resized and recoloured in-game item images.
The galapagos grasses and ferns proved a most useful starting point for the additional vegetation. The actual burrow is scaled 0.9 compared to the original dino burrow and is not the same colour. I have a range of recolours of this and of the associated vegetation, although this is (so far) the only one with trees on it.
Highland
- coded for Highland habitat, Anywhere.
Description: This burrow uses the underground cave messages as these seemed appropriate (I had in mind a cave entrance when I made it). I have given it a highland habitat and icon background (but many locations) as this seemed to me to suit the colours. I have given it a generous allocation of capacity as it covers 6x6 squares. The price is just a bit more than the in-game rock cave.
Rainforest
- coded for Rainforest habitat, Anywhere.
Description: I made a bigger version of the ingame durian tree to put on it.
Deciduous
- coded for Deciduous habitat, Anywhere
with an extended Elm on it
Coniferous
- coded for Coniferous habitat, Anywhere
coniferous cave entrance, yellow sandstone - works fine. a larger and a smaller than in-game western red cedar on it
African Savannah
- coded for Savannah habitat, Africa
I've done an African savannah cave shelter. Every now and again I make something that ticks all the boxes for me and this is one of those items. It is very pretty! This is what I was supposed to be working on when the idea for the baobab came to me... I'm really glad I went back to it! It has a correctly coloured slender termite nest, a flowering acacia tree with its characteristic bunches of fluffy bright yellow pom pom flowers (started out as a snowberry tree), and a mopane, a characteristic multi-trunked shrub or tree species which has very green foliage during the wet season and slowly dessicates from green through patchy yellow to brown over the rest of the year. It is found commonly, forming extensive forests across Africa in a belt that runs through Zimbabwe.
Requires lang--TKZTUFcombin.dll
Download Underground Cave Shelters